Hi Everyone!
I haven't posted since November and I'm so ashamed. So much has happened since then! I'll do a quick update on events that have been keeping me away, then I'll put together a few posts that summarize some projects I have worked on over the past few months.
Well, to start, I was a little distracted putting together the finishing touches on Logan and my trip to Europe! We went in December and it was wonderful. We looove Paris!
While we were there we made sure to stop by the Love Lock bridge that has been pretty popular on Pinterest. Admittedly, we did go looking for it, but we wouldn't have been able to miss it if we tried. We literally ran right into it when we were walking by the Notre Dame.
Luckily, we had researched online (yes, the love lock bridge was part of the intricate planning process) before we went and learned that there are actually two love lock bridges: one by the Notre Dame (on the Pont de l'Archeveche) and one by the Louvre (on the Pont des Arts). The Pont de L'Archeveche is for your lover, while the Pont des Arts is for your committed love. Of course, we purchased a $15 lock from a local souvenir shop, paid an extra $7 to have it engraved, and headed to the Pont des Arts. You can read more about the love lock bridges
here
.
We were excited to go to the trampoline bridge (see below) but knew it was too good to be true. No, there is no giant bridge made out of trampolines in Paris.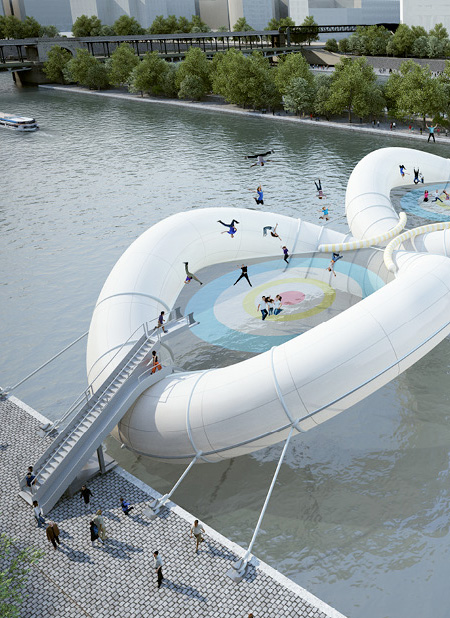 ANYWAYS...
Good thing we locked our lock on the bridge for committed love, because two days later Logan proposed to me on top of the Eiffel tower on New Year's Eve.
Could it get any better than that?
Yes, it could. By him having someone catch it all on film. A ring is one thing, but forever pictures of the proposal happening are priceless.
So right away we got caught up in a flurry of preliminary wedding planning and I feel like every free second I had for the next three months was completely devoted to the wedding. We decided to get married on December 13th, 2014 (12-13-14). Since it's a Saturday and would be a VERY popular date, "we" knew it would be a good idea to get ahead of the game and find a place/vendors ASAP (as in I had to convince him and he soon found out on his own).
We are now 20 months away from the wedding and we have all of our vendors including our wedding planner squared away. We had a lovely engagement party that made us realize how much work the wedding is going to be, and then we finally got to take a big breath and relax.
Ahhh... just get to brainstorm about dresses, flowers, and cakes for the rest of the year.
So that's why I've been a little busy. Not mention the usual complaints about school and work. But, hey! It's almost May which means it's almost summer... AND I graduate in December which means I'm almost done with my Master's. Just keep pushing through.
On other news, Heidi the hedgehog died in December :( She was a good hedgehog and a lot of fun to watch. I don't miss cleaning up her cage though.
We gave her a nice funeral which involved a lovely farewell down a nearby river.
RIP Heidi!
I want to say that's all the ME update I have. Don't worry! I'm about to tackle my phone pictures and my pinterest 'done' board to tell you about what's been keeping me busy creatively.
See ya!
Amy